This week the Berlin media unveiled a sensational discovery: a largely intact 80 meter (262 feet) section of the Berlin Wall that everyone assumed had been demolished. Battered but still standing, this section of the wall remains in its original location in the quiet northern Berlin suburb of Schönholz. It had actually been rediscovered by local historian Christian Bormann as far back as 1999—but he's kept it a secret since then. Bormann only chose to bring it to public notice this week (via his personal blog and contact with local officials) after growing concerned that its dilapidated condition placed it in peril of collapse.
That such a remnant could go unnoticed even in a backwater seems incredible. This was once one of Europe's most heavily, lethally monitored frontiers, and one of the most infamous objects in the world. How did it ever fade into obscurity? The answers reveal some fascinating details about the Berlin Wall's history and functioning.
It certainly helps that this newly discovered section is in such a hidden-away location. Wedged in scrubby, unbuilt suburban land between a cemetery and the tracks of the S-Bahn railway, it's in a place few people need to visit. And in its most basic form, the Berlin Wall wasn't exactly eye-catching as a structure—it certainly wasn't very tall. Its surprisingly modest height ranged between 11 and 13 feet, while its construction out of concrete slabs topped with smooth pipe gave it a deceptively humdrum, unprepossessing appearance.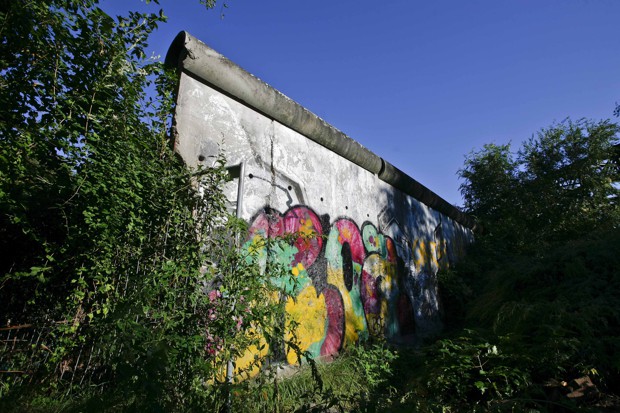 While it wasn't as fearsome-looking at its reputation suggests, it was still close to impregnable once fully complete. What made it nigh impossible to scale was not its height, but the so-called "Death Strip" alongside it, a broad, heavily guarded fringe where a barbed wire-topped fence enclosed an area of raked sand and anti-tank obstacles called "Czech hedgehogs." With the death strip removed, the Berlin Wall itself looks relatively unassuming, its construction from prefabricated panels mirroring numerous other structures built during the years of the German Democratic Republic.
This is especially true of the newly rediscovered section—because it doesn't even look like the rest of the wall. It's an unusual remnant from the very first years of the wall's existence. When the barrier was first strung around East Berlin during the night and early morning of the August 12 and 13, it was a hastily installed cordon of barbed wire fences, augmented with concrete a few days later. The rediscovered section was actually built up from the remaining walls of some tenements bombed out during the Second World War, Bormann believes; their cellars filled in with rubble to prevent access to anyone seeking to tunnel under the wall. The early Berlin Wall's combination of wire and concrete with such relatively makeshift arrangements was largely replaced by concrete only from 1965 onward, while the wall took on its final appearance as a chain of concrete slabs between 1975 and 1980.
A few pieces of the original 1961 wall persisted, however, in just a few locations where they were still deemed solid enough not to pose a security risk. The rediscovered section at Schönholz is one of these early remnants. It passed under the radar as just another random piece of shabby concrete wall—because, now that the barbed wire has disappeared from the V-shaped brackets capping the wall, that's exactly what it looks like.
Visitors hunting down the remnant in search of Cold War shivers may thus be disappointed. At the same time, there's a clear poignancy to the discovery. Once this masonry barrier was a lethally-charged fault line running between two global power blocs, the political equivalent of tectonic plates. Now that this remaining section of the wall looks like any other rundown, unremarkable slice of urban blight, that not-too-distant past when it formed a heavily-guarded frontier seems ghostly, unreal.